Dow Corning rebranding to DOWSIL from November 2017
We have some important upcoming changes planned by one of our key suppliers, Dow Corning.
Dow Corning was purchased by the Dow Chemical Company in 2016, and work has now begun to integrate Dow Corning's business into the broader structure of The Dow Chemical Company. The integration activities include the merging of Dow Corning's and Dow's SAP/enterprise resource planning systems, legal entity changes, a new website and product branding updates.
When?
For products manufactured in Europe, the first phase of change is anticipated to begin in November 2017.
Updated Product Brand Names:
Recently, Dow unveiled DOWSIL™ as part of a series of branding changes to come. Effective from November 2017, most Dow Corning® and Dow Corning Toray branded products will move to the new DOWSIL™ product brand. Other product brands from Dow Corning, such as MOLYKOTE™, XIAMETER™ and SILASTIC™, will remain as they are today.
Example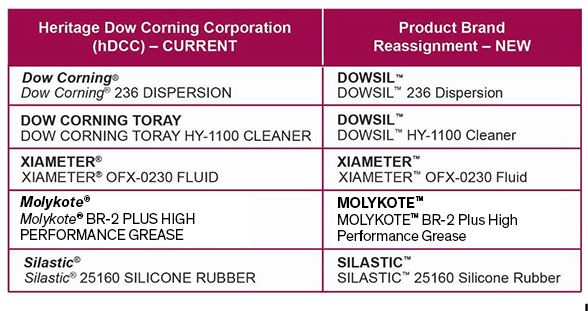 In some other cases, Dow Corning® and Dow Corning Toray branded products may move to some of our other product brands, which we will continue to use. These product brand names include, but are not limited to:
XIAMETER™, MOLYKOTE™, MULTIFLEX™, SILASTIC™, SYL-OFF™, MULTIBASE™, VORASURF™
Labels, safety data sheets and other documentation will be updated with the new product brand, where appropriate, as well as with the new legal entity name. Additionally, the Dow Corning logo will be removed from these documents and replaced with the DOW® Diamond.
Inventory and documentation
Existing inventory will not be re-labelled with the product brand changes. Labels and other documentation will be updated with the product brand changes over time as current inventories are exhausted.
Safety data sheets will be updated with applicable product brand changes during each phase of implementation. For more information about changes to safety data sheets, please see the SDS addendum. Chemical equivalency certificates are available to help you with mismatched documentation and labels. Registrations and certifications will be renewed, and the vast majority of material numbers (now called GMIDs) and SKUs will remain unchanged.
Safety Data Sheets
A transition period for safety data sheets (SDSs) will occur between November 2017 and February 2018. During this period, it is possible that customers will receive SDSs for certain products from the Dow system and for other products from the Dow Corning system. SDSs sent from the Dow Corning system will maintain the Dow Corning layout and logo, while SDSs sent from the Dow system may reflect one of two situations:
SDSs transferred from the Dow Corning system to Dow's system (with no revisions)
SDS's will maintain the same Dow Corning content and layout.

The version number for a given product will be maintained; however, upon transition from the Dow Corning system to the Dow system, the revision date will be changed to the date on which the transition occurs.

In section 1, the Dow logo will be displayed together with Dow customer information contact details. The emergency telephone numbers may be updated (except for European anti-poison centre numbers).
Newly released SDSs for Dow Corning products beginning in November 2017
SDSs will follow the full Dow layout.

A new version number will be assigned for all updates.
Dow Corning transition on Silmid.com
Our team is working closely with our supply chain partners to minimise the risk of incorrect information being displayed in the silmid.com catalogue. As inventory moves through the supply chain we will be updating product descriptions, pack shot images and data sheets to reflect the new branding.
Some products will be updated earlier than others due to existing inventory sell through. Our goal is to minimise the risk of 'mixed' shipments and so we will be engaging with customers over the coming weeks and months to ensure that there is minimal disruption.
Design authority and specified products
Customers who are concerned about the branding changes in relation to their purchasing requirements will need to start updating their internal systems and work instructions, please contact us for assistance if required.
Next Steps
Ensuring a positive experience for you is most important to us, and our Customer Service Team can assist with questions or queries you may have about the transition. We will continue to keep you updated, but please do not hesitate to reach out to us with any additional questions or concerns you may have.
The New Integration Information Centre:
For more information on the re-branding process, Dow have launched a new integration information centre website accessible here
You can also find an introduction to DOWSIL™ here
If you have any questions or concerns please contact info@silmid.com